Probation professionals know the drill.
Despite staggering caseloads, many take precious time to, um, observe clients peeing into a cup.
Individuals on probation are often subject to court-ordered urine drug testing, even if there's no threat to public safety or risk for recidivism. So, it's one of many tasks probation professionals must conduct daily to keep their communities safe.
But are they testing correctly?
A study of drug testing practices in probation, conducted by the Illinois Criminal Justice Information Authority (ICJIA), found that many probation departments do not randomly test probation clients, often respond to positive drug tests with punitive measures, and infrequently offer positive feedback for negative test results – all counter to industry best practices.
Study highlights
Among the highlights you can read about in the study:
Probation departments operate with a lack of guidance on drug testing, as well as limited research to support that drug testing reduces recidivism and improves behavioral health.

Almost all (95%) of survey respondents indicated that drug testing was a part of the probation officer job description and most noted it was a mandatory duty (79%).

About 25% of respondents indicated that drug testing procedures were not at all covered or covered very little as a part of ongoing training.

Most (87%) indicated probation officers determined the drugs for which their clients would be tested; others indicated a judge made the determination (32%).

All but one respondent reported their departments randomly drug-tested; however, 21% of respondents indicated their departments always randomly tested. Just over half of respondents reported the decision to randomly test was left to the probation officers (51%).

All respondents said drug tests could be administered by their departments during normal business hours, and 60% administered tests any time during the week and on weekends.

When asked how probation officers respond to having to administer drug tests, 49% of respondents noted that they were somewhat positive to extremely positive about administering drug tests.

Three-quarters of respondents indicated 10% to 40% of their probation officers' time was spent administering drug tests.

Ninety-two percent of probation leaders stated that negative test results were addressed with praise and about 40% gave a reward, including vouchers or gift cards, reducing the number of court appearances, moving to less restrictive probation phases, among others: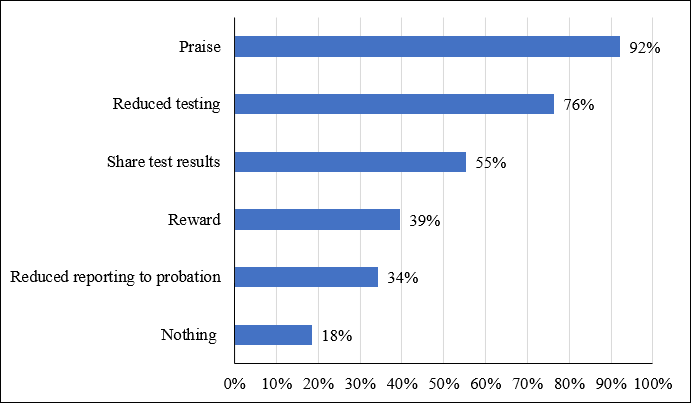 SOURCE: ICJIA
Study recommendations
Based on survey responses, the study recommends the following:
Increase random drug testing. Although a majority of departments employ random drug tests, only 19% always use random testing, and 25% never or sometimes use them. Random testing is recommended as the best method for detecting drug use – frequent random scheduling decreases the likelihood of undetected drug use.

Reduce punitive responses to positive drug tests. According to the the American Society of Addiction Medicine (ASAM), drug testing should be used as "a tool for supporting recovery rather than exacting punishment."

Offer positive incentives. The survey found that less than half of probation departments reward clients for negative test results. Probation departments could enhance reduced drug use by more consistently offering rewards such as vouchers, phasing up program progression, and reducing court appearance requirements as well as praise for negative drug tests in line with the tenets of contingency management.
Benefits of partnering
Given how much time probation professionals spend on specimen collection and how varied practices are, now's a good time to evaluate your procedures. Turning over collections to a provider has several benefits:
With less time spent collecting samples in restrooms, you'll be able to focus more on what matters most – providing support and encouragement to your clients.

Your clients rely on your education and experience to help them on the road to recovery. Turning over directly observed collections preserves your professionalism and increases respect from clients.

Having someone else do a vital but tedious task will help your outlook. After all, would you prefer to spend time in the restroom or having meaningful dialogue that makes a difference?
Contact us to learn more about how Averhealth can help reduce and automate your drug-testing workload.