Richmond, Va. – More than 33,000 Americans died from an opioid overdose in 2015.[1] In 2017, with the help of a grant from the Bureau of Justice Assistance, Buffalo, NY started the first Opioid Intervention Court (OIC), overseen by Judge Craig Hannah. The purpose of the court is to link participants to Medication Assisted Treatment (MAT) and/or behavioral treatment within hours of their arrest.
---
To do this effectively, the court diverts participants into treatment within 24 hours, holds criminal charges until clients are stabilized, links clients with ancillary services, and ultimately tries to stop the revolving door between drug use and the criminal justice system. Most notably, if participants relapse, they are not thrown out of the program.[2] Participants who relapse are allowed to restart the program as many times as necessary to get themselves on a positive path.
While opioid court is based on the general principles of other treatment and intervention courts, it is very different and has more requirements. Participants must appear in court every day, rather than once a week or twice a month. In addition, participants are required to attend counseling each day and must maintain an 8 PM curfew. Participants must also take "fully observed, random and scheduled urine tests" throughout the program.[3] Criminal and dismissible charges (including Good Samaritan cases) are put on hold for 30-60 days, participants are linked to MAT, and participants receive assistance in getting insurance (Medicare/Medicaid), transportation (bus passes), and reaching individual goals (including education, family visits, or driver's license restoration).[4]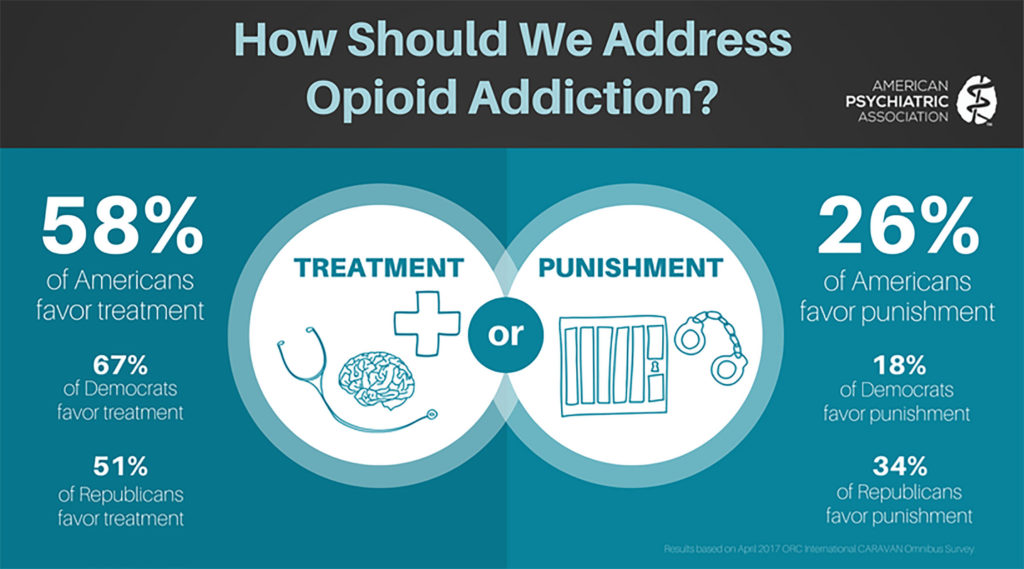 "Their tolerance goes down from their short stay in the jail, and that's when they use again and fatalities occur," said Monroe County Court Judge John DeMarco, who is overseeing a second opioid court in Rochester, NY.[5] Thanks to a $1.8 million federal grant, participants in the court without insurance still have access to treatment.
It is estimated that 2 million people in the United States have a substance use disorder related to prescription opioids.[6] In the midst of the opioid crisis, or epidemic, a new solution was needed, most notably faster access to treatment for those actively in the throes of addiction. The OIC specializes in high-risk offenders using enhances partnerships to ensure that MAT is actively, not just passively, coupled with counseling and other supports.[7] The first 30 days in the program are typically spent in an intensive inpatient detox; followed by 30 days of outpatient treatment.[8]
"There's a shame in addiction. That's one thing we have to remove. Part of recovery is telling people that the only difference between you and them is time," says Judge Hannah.[9]
Once participants complete the OIC program, their charges are dropped, or they are referred to the County's accompanying Drug Court. As of April 2019, the court in Buffalo has placed more than 400 people into treatment and has received another $2 million grant to increase its caseload.[10]
[1] American Psychiatric Association. (2017, May 22). Americans Favor Treatment, Not Enforcement, to Address Opioid Crisis; Many Americans Believe Access to Illegal Opioids and Painkillers is Easy; One in Five Millennials Think it's OK to Share Prescription Medicine. Retrieved from https://www.psychiatry.org/newsroom/news-releases/americans-favor-treatment-not-enforcement-to-address-opioid-crisis
[2] Williams, T. (2018, January 3). This Judge Has a Mission: Keep Defendants Alive. The New York Times. Retrieved from https://www.nytimes.com/2018/01/03/us/buffalo-heroin-opioid-court.html
[3] The Buffalo Opioid Intervention Court Program Webcast Recording. Retrieved from https://drive.google.com/file/d/1Rv7Oq5QE054G12ohvAPyxfj0tqzNquTU/view
[4] The Buffalo Opioid Intervention Court Program Webcast Recording. Retrieved from https://drive.google.com/file/d/1Rv7Oq5QE054G12ohvAPyxfj0tqzNquTU/view
[5] Burch, K. (2018, December 3). Opioid Court Aims to Prevent Overdoses by Offering Treatment. Thefix.com. Retrieved from https://www.thefix.com/opioid-court-aims-prevent-overdose-offering-treatment
[6] American Psychiatric Association. (2017, May 22). Americans Favor Treatment, Not Enforcement, to Address Opioid Crisis; Many Americans Believe Access to Illegal Opioids and Painkillers is Easy; One in Five Millennials Think it's OK to Share Prescription Medicine. Retrieved from https://www.psychiatry.org/newsroom/news-releases/americans-favor-treatment-not-enforcement-to-address-opioid-crisis
[7] The Buffalo Opioid Intervention Court Program Webcast Recording. Retrieved from https://drive.google.com/file/d/1Rv7Oq5QE054G12ohvAPyxfj0tqzNquTU/view
[8] Westervelt, E. (2017, October 5). To Save Opioid Addicts, This Experimental Court Is Ditching the Delays. NPR. Retrieved from https://www.npr.org/sections/health-shots/2017/10/05/553830794/to-save-opioid-addicts-this-experimental-court-is-ditching-the-delays
[9] Williams, T. (2018, January 3). This Judge Has a Mission: Keep Defendants Alive. The New York Times. Retrieved from https://www.nytimes.com/2018/01/03/us/buffalo-heroin-opioid-court.html
[10] Preval, J. (2019, April 26). Buffalo Opioid Court gets $2 million to expand caseload. MSNBC2 WGRZ. Retrieved from https://www.wgrz.com/article/news/local/buffalo-opioid-court-gets-2-million-to-expand-caseload/71-cd7ca243-e236-49e3-af1c-00ae70d8c40d