At the end of June, members of the Averhealth team headed to the Lone Star State for RISE23, the world's premier conference on addiction, mental health, and justice reform. This year's event hosted over 7,000 attendees in Houston at the George R. Brown Convention Center offering attendees the opportunity to hear from over 350 speakers across 250+ unparalleled educational sessions. We hope you all had safe travels back to your offices and are ready to bring what you learned at RISE23 home to help continue the momentum.
As a gold sponsor of this year's event, here is a recap of Averhealth's time at RISE23!
When one person rises, we All Rise
During this year's RISE event, the National Association of Drug Court Professionals (NADCP) announced that after nearly 30 years of working with the treatment court movement, their Board of Directors unanimously voted to rebrand to All Rise, to better capture the work they have done and will do in the years ahead across the justice system.
All Rise will continue to provide training and empower emerging treatment court innovations through their four divisions:
The Treatment Court Institute
Impaired Driving Solutions
Justice for Vets
Center for Advancing Justice
To learn more about All Rise and their initiatives moving forward, visit them online at AllRise.org.
Evidence-Based Best Practice Standards
Since its introduction in 2013, the Adult Drug Court Best Practice Standards (Volume I) has aimed to provide drug courts with specific guidance on how to improve operations and outcomes, measure and evaluate program quality, and identify areas of improvement and technical assistance. These standards are the foundation upon which all treatment courts should build and run their programs on.
During RISE23, All Rise hosted a session that looked back at a decade of circulation for these evidence-based best practices and how these standards have worked to uphold their promise, what lessons they have learned since their adoption, celebrated accomplishments, lessons learned, and challenges faced during these first 10 years.
This workshop also previewed important new additions, clarifications, and other notable changes in the upcoming second edition of the Adult Drug Court Best Practice Standards. As the world changes around us, so must our industry's blueprint for success. Volume II looks to enhance standards around behavior, equity and inclusion, and treatment of substance abuse and other mental health disorders.
These best practices are the key to changing and improving how the justice system responds to people in crisis.
For more information on All Rise's current set of Best Practices, please visit their website here.
Visit with Averhealth at Booth #704
During this year's event, members of the Averhealth team chatted with attendees across the justice reform industry to learn more about them, their programs, and the work they are hoping to do in the future.
Conferences provide exhibitors and attendees alike the opportunity to step out from behind emails, phone calls, or Zoom links that have been the industry standard throughout the pandemic and chat face to face about challenges their programs are facing and how the solutions our teams are offering can help streamline and ease their drug testing process.
These conversations are not just beneficial for attendees but for exhibitors as well. It gives us insights into the challenges your teams are facing and how we might be able to offer solutions to help programs continue towards successful implementations.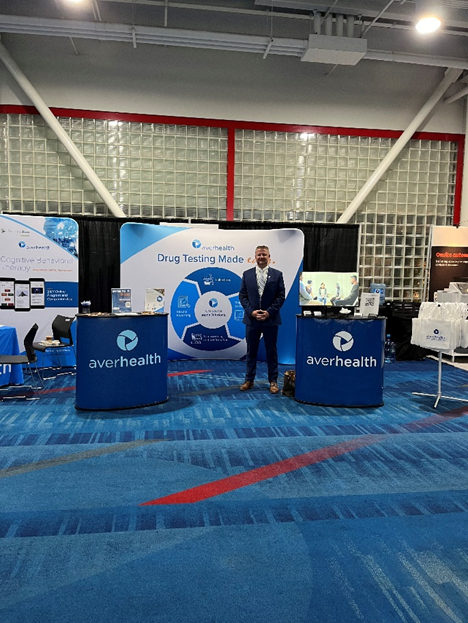 Name That Tune: A Night at Pete's Dueling Pianos
On Tuesday night, we warmed up our vocal cords and hit the town for a night of fun at Pete's Dueling Pianos, a co-sponsored event with Intoxalock! Intoxalock offers an industry leading ignition interlock device that is easy to use for those working towards recovery after a drunk driving conviction.
Averhealth and Intoxalock hosted about two hundred individuals at Pete's. This time allowed us to thank our customers for all of their hard work and dedication to the treatment court field. Many of our invited guests danced, sang, and enjoyed a night out on the town in Houston before heading back to their homes and programs across the nation!
We would like to thank the staff at All Rise and those who worked diligently to make RISE23 an overwhelming success! Our team enjoyed learning, networking, and gaining valuable insights in Houston this year and cannot wait to return next year.
We will see you in Anaheim for RISE24!