Richmond, Va. – Evidenced-based practices for substance use disorder monitoring are essential to helping clients develop coping and refusal skills to new substance use, as well as supporting better, more informed treatment and supervision decisions. Substance use monitoring, provided by Averhealth, incorporates evidenced-based practices. This includes daily engagement; random selection; same gender, directly observed sample collection; timely, objective information; and scientifically valid, forensically defensible results.
Daily engagement, provided via automated phone, text, and web, provides daily positive reinforcement, incorporates client-specific affirmations proven to reduce temporal discounting – the tendency for people to discount rewards as they get closer to a goal – and lack of engagement provides a warning that enables early intervention.
Random selection must include assurance that clients have an equal probability of testing on any day of the week, including weekend and holidays – high-risk times for usage. This means test selection has no correlation to court schedule, treatment, medication distribution, last testing date or any other event. Truly random selection prevents clients from predicting which days they will be tested — so they cannot modify their behavior, including switching their drug of choice, to "trick" the test. This ultimately leads to fewer new use events and better outcomes for you and your clients.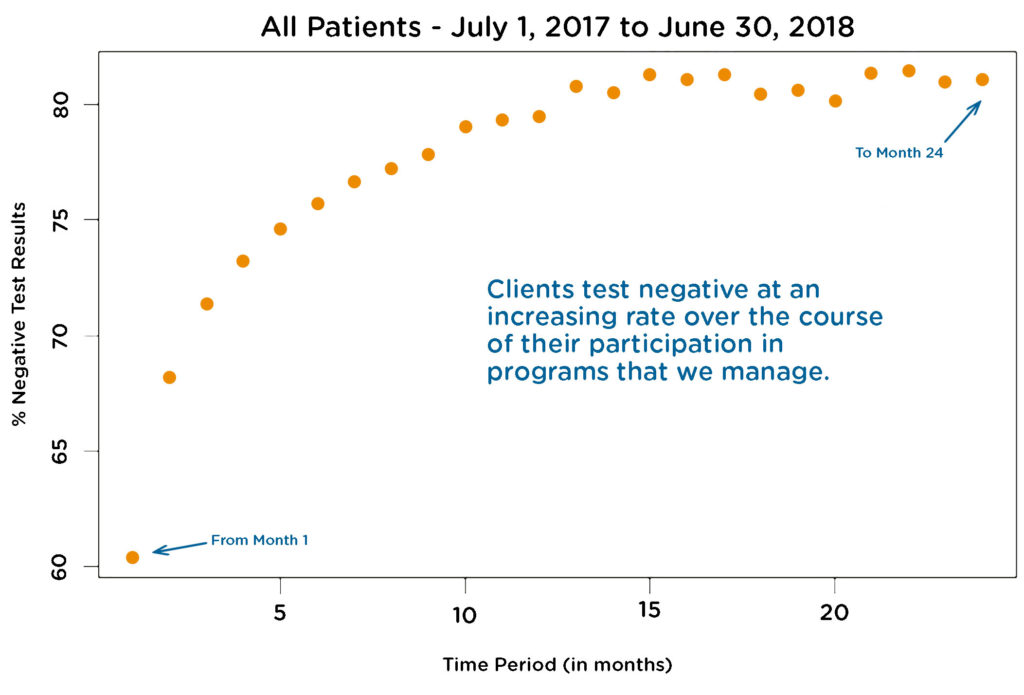 Averhealth's testing is scientifically valid, using proven technology accepted by the scientific community and evaluated by peer-reviewed journals. Our test results meet Daubert and Frye scientific rules of evidence and are supported by case law. We provide timely, objective information; screen results are often provided within 24 hours of sample collection, empowering you intervene in a timely manner.
Averhealth specializes in conducting same gender, directly observed "mid-stream" sample collections. Averhealth has honed and refined this process to ensure a rigorous, legally defensible specimen collection, while treating clients with respect and dignity. Our Patient Care Technicians maintain a direct line of sight when conducting a sample collection and use strict protocols to minimize the potential for adulteration or substitutions. The typical time it takes for a client to provide a sample, from entering to leaving an Averhealth location is under three minutes.
We also recommend a customized, rotating panel. For example, when you rotate in a specialty assay to test for Fentanyl use, your clients will not know whether they are being tested for Fentanyl — so they cannot try to trick the test. As a comparison, if you are using a point-of-care or instant test method, your clients will know exactly what they are being tested for because they can see it. On the side of each instant cup is a panel that says what can be tested for within that cup. If you are using the same cups every time you test, clients can easily determine what they can and cannot use, since they are likely using drugs that you are not testing for.
Our testing, performed in Averhealth's nationally certified state-of-the-art lab, is scientifically valid and forensically defensible. The ability to easily customize a panel not only for each client, but also for each sample collection, is a distinct advantage unique to Averhealth.
Scientifically valid technology and customized, rotating panels, plus Averhealth's exclusive advantages, combine to give you the most accurate results possible. We empower you to definitively identify who is using, so you can better manage treatment and impose appropriate sanctions when needed.