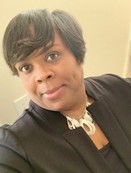 Shelby Johnson is used to seeing tears of joy and relief.
As the Director of Community Corrections for Henrico County, Va., she oversees pretrial, probation and drug court down the street from Averhealth's headquarters. One benefit of her work in treatment courts is seeing people succeed on the road to recovery.
"Clients in a treatment court require empathy and patience at a high level," Shelby says. "I enjoy helping individuals and watching them work hard on maintaining sobriety, repairing relationships, and elevating their lives in a positive direction."
The goal of Henrico County's Drug Court is to reduce crime and recidivism through timely intervention and comprehensive treatment of substance use while keeping clients accountable through coordinated efforts of the criminal justice system, treatment providers and community partners.

"I am motivated when I see an individual make positive changes," Shelby says. "Even small changes that make them proud of themselves and make progress."
Enter Averhealth
One of her tools for success is Averhealth and its web-based application, Aversys.
"We use the system for substance testing," she says. "With this information, we know how to adequately address individuals and create success plans that aid in their sobriety."
Shelby says Averhealth makes it easy to conduct substance use testing without her staff being tied up with testing. And, she says, Averhealth was there when her courts needed help.
"During the initial outbreak of COVID-19, we were able to continue to provide testing and hold individuals accountable while still working to assist them with remaining drug free," Shelby says.
Today, she adds, that partnership continues: "Averhealth has been responsive to any issues and concerns and continues to update services to address current drug trends and substances."
Read what it's like for Shelby at a drug court graduation. Hint: tissue required.