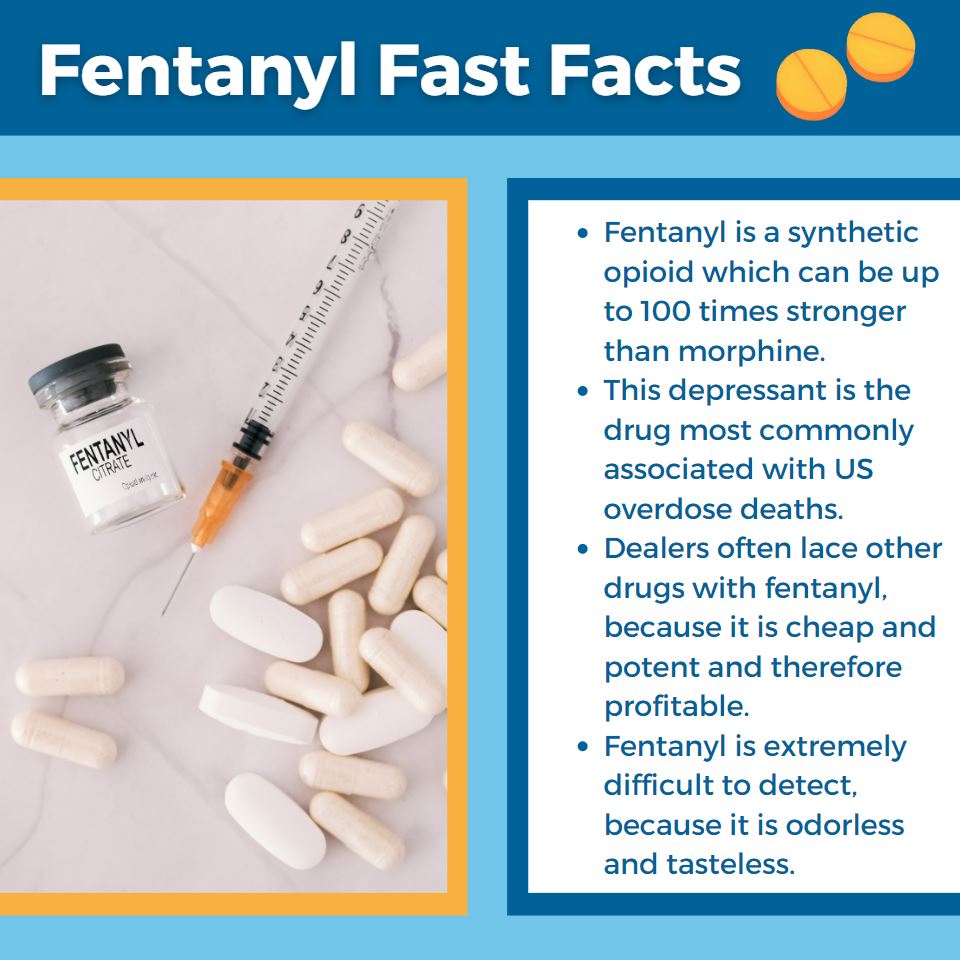 According to the CDC, fentanyl overdose is now the leading cause of death among US adults between the ages of 18 and 45. While intentional fentanyl use accounts for many of these tragic fatalities, a growing percentage of individuals are overdosing due to unknowingly consuming fentanyl-laced substances.
Fentanyl is a synthetic opioid that mimics an opiate within the body despite not being one chemically. Although fentanyl bears an increasingly deadly contemporary reputation, this FDA-approved drug was originally used as a medical painkiller. Up to 100 times stronger than morphine, fentanyl can result in side effects such as severe respiratory depression, muscle rigidity, seizures, hypertension, and comas. Like opioids, fentanyl is a depressant rather than a stimulant. While stimulants speed up the body's pulse and respiration rate, depressants slow down these central nervous system functions. Additionally, contrary to what might be assumed by its high potency, fentanyl is cheap to manufacture.
Fentanyl's powerful yet inexpensive punch has made it quite popular amongst drug dealers. Traffickers will often combine fentanyl with substances such as cocaine, heroin, methamphetamine, and MDMA in the form of powders, capsules, and pressed pills to heighten their effects. Because fentanyl is odorless, tasteless, and therefore essentially indetectable without a specialized test strip, many dealers can lace their substances unbeknownst to the consumer. This deceptive trend is incredibly unsafe because of fentanyl's high potency. Experts consider anything over 2 mg of fentanyl to be a lethal dosage, and, frighteningly, the U.S. Drug Enforcement Administration (DEA) has reported that roughly 50% of the counterfeit pills they've tested have contained more than 2 mg of fentanyl, with many containing closer to 5 mg.
Furthermore, if fentanyl (a depressant) is combined with a stimulant such as cocaine, methamphetamine, or MDMA, the results can be highly unpredictable and dangerous, even if this laced substance contains a non-lethal fentanyl dosage. While the effects of the two opposite substances might mask one another by dulling the sensation of the user's high, the idea that they also cancel out each other's effects on the body is just a harmful myth. This phenomenon puts users at an additional risk of overdose. If the consumer is not feeling the desired high, they may increase their drug's dosage of choice and unintentionally take a lethal dose of fentanyl in the process.
Because the purchasing of street drugs has become "a game of Russian roulette," it should be assumed that any substance not obtained directly from a pharmacy, whether illicit or prescription, has the potential to contain a deadly dosage of fentanyl. Tens of thousands of Americans are dying every year from overdoses related to fentanyl, even though many of them are addicted to substances vulnerable to fentanyl adulteration rather than fentanyl itself. These statistics show that it is more important now than ever before to help individuals struggling with substance use disorder (SUD) before they wind up on the wrong side of the numbers.