Thank you for visiting the Averhealth team at national, state, and regional conferences. Learn more about our services below!
Learn more about the Averhealth Solutions:

THE HEAVY LIFTING
We do the heavy lifting – from implementation to day-to-day operations, we're here to handle all of your drug testing needs!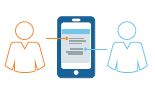 IN-PERSON, VIRTUAL & SELF-DIRECTED TRAINING
We offer versatile training options, such as our case management tool – Aversys, so you can have support whenever you and your staff need it!

KNOWLEDGE HUB
We are the knowledge hub for drug testing; our customers enjoy monthly newsletters, Averhealth Academy, and webinars, and will learn from national thought leaders in the industry.
---
Learn more about how Averhealth can improve your clients' outcomes on their journey to recovery by clicking the button below to reach out to the Averhealth team.
Sign up for our newsletter to learn about upcoming events.
---